Post with 6 notes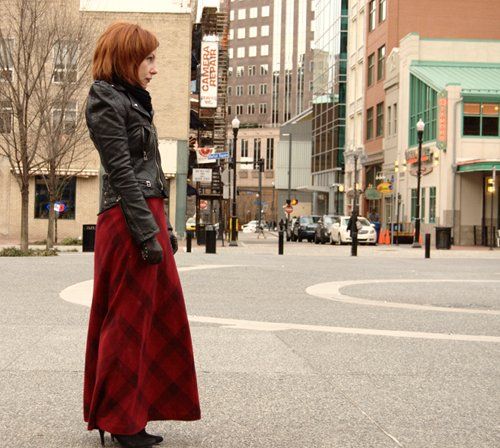 This skirt was tucked away in a box with the trousers I wore on Tuesday. I remember seeing it while I was digging for something else. I thought to myself, "I should take that out now and get it into my closet…." And then I kept burrowing, leaving the skirt behind.
Obviously some nasty memory-eating bug scurried into my head and found the exact part of my brain that housed the location of this skirt because when I wanted it most, I could not find it anywhere.
CJ found it. I celebrated and then put the skirt on. Weee!
This piece has a nice curve and a lovely swirl to it. I feel that the tough jacket keeps it safely away from the matronly precipice that it could so easily teeter on.
What are some of your favorite thrifted pieces? Is it not the biggest win when you pick up something that fits so nicely into your wardrobe and costs less than a glass of wine?
Jacket: Queen's Wardrobe; Skirt: Thrifted; Boots: Nine West via DSW; Scarf: c/o Jupe Boutique; Gloves: Burlington